News
Team building & adventures at Stubbers
Back
September 29th 2022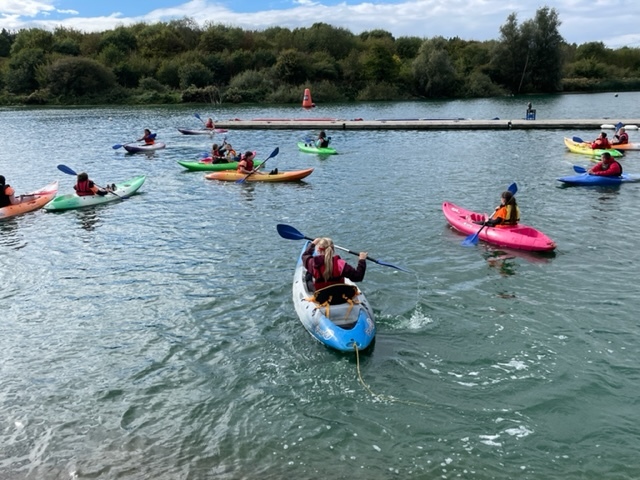 On 27th September 140 year 7's ventured to Stubbers, where they took part in a range of challenges and activities with everything from getting drenched kayaking to defending their flag and protecting the president during laser tag. Students made new friends, shared team spirit and fresh rivalries as they cheered each other on around the activities. Shouts of encouragement and excitement filled the climbing area as people who hadn't spoken before were suddenly coaching each other up the wall. Laugher, applause, new experiences and a lot more cheering was the order of the day.
At archery, student's focus and precession was tested as they each competed for the elusive centre gold. I heard lots of stories of top scores from throughout the day but I couldn't say which were outright wins and which were urban legends.
Tactics and team spirit was in abundance on the laser tag field as it felt like every boy in year 7 worked as a seamless team to end the "virtual" lives of Miss Parfitt and I while we tried desperately to evade them in the woods.
Children overcame their fears and found a new level of bravery as they conquered the high rope course. Sharing tips along the way and reaching out to steady and reassure each other it was a great sight to see. With new found confidence a few brave individuals even tried it with their eyes closed - coached round by a guide.
Over on the lake kayaking, canoeing and capsizing was the order of the day (as well as trying to soak the instructors and each other).
There is so much I could say about the day but I think I'll let year 7 have the final word….. "Miss Lyus, today was epic!"
Miss Lyus
Year 7 Achievement Team Leader