News
June 10th 2022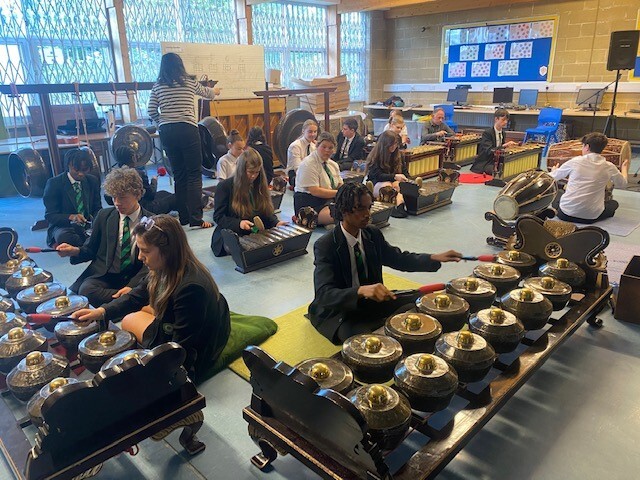 On 8th May, 16 GCSE and future GCSE music students took part in a Gamelan workshop learning about music from Indonesian culture.
The workshop was an excellent opportunity to be able to work as an ensemble and build their musical communication skills and team work after the restrictions of the last 2 years. The music is cyclic and made up of patterns with interlocking melodies punctuated with gongs. As musicians students learnt to work from memory, tap into the rhythmic feel of the piece and to develop a wide range of percussion skills. The Performance used a Pelog Gamelan made up of 2 headed drums, gongs, bonangs, kenongs, sarons and slenthems. The music of the gamelan is surrounded by cultural and religious traditions and has links to Buddhism, Hinduism, Christianity and Islamic themes alongside Javanese traditions. In keeping with this students were seated on floor cushions throughout and had to remove their shoes in order to take part.
We are extremely grateful to Sarah Stutchfield, Gamelan Anak Ledjar for leading such a musically enriching session for our students.
Miss Lyus
Teacher of Music