News
Katie Ennis- Havering Sports Volunteer of the year
Back
March 3rd 2022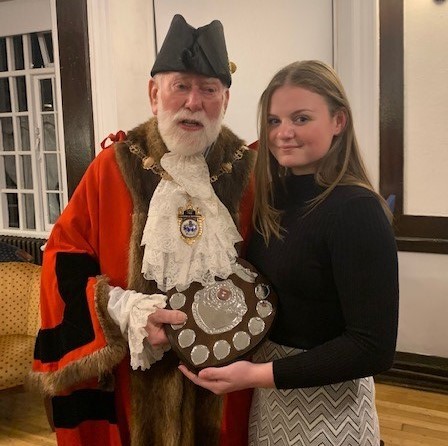 Abbs Cross are extremely proud to share that one of our year 11 students – Katie Ennis has been recognised throughout the borough for both her commitment to the development of young athletes throughout Havering.
Nomination
At the start of the outdoor athletics season Katie became aware that the number of available officials was likely to be lower than in previous seasons. She undertook to complete an officials course online via England athletics and started to take a more formal role within Havering AC (She has always helped out since the age of 11 but never in a formal way).
This season she has officiated at 12 seperate meetings including Youth & National League Meetings, Essex County Championships and Year 7 Schools Championships, Eastern Young Athletics League, Southern Athletics League, Havering AC Open Warm up & Club Championships, as well as stepping up at an LICC (London Inter Club Challenge) meeting to lead a high jump event with just 2 parent helpers - having been recommended to the field referee by another Level 4 Judge that had worked with Katie previously at the County Schools event.
Katie has qualified as a Level 1 field Judge already and has also achieved her positive report required to enable her to qualify at Level 2.
All of the above has taken place alongside Katie competing for Havering AC at 22 Competitions across a variety of events which earned her Field performance of the year for U17w at the Havering AC Track and field awards.
Katie was nominated by the Club committee for an England Athletics Volunteer Award in the Young Volunteer of the year category for which she was shortlisted and Won the award for the London Region. Katie trains hard and is always happy to help coach younger and newer athletes to her training group.

In addition to her volunteering at the club - Katie regularly volunteers at Harrow Lodge Junior Park run - undertaking a variety of duties. She has volunteered on 18 seperate occasions since park run restarted following the restrictions and a total of 61 seperate occasions in total.

Katie also volunteers her time as a member of the off ice team for Romford Junior Ice Hockey Club - giving up 45 hrs so far this year on 10 seperate occasions - the club managers wrote a fantastic report to Katie's school commenting on her high level of skill, professionalism, positive can do attitude and high level of personal accountability / communication. this report can be provided too.

As a school we are extremely proud of Katie and all she has achieved through her dedication and hard work.